Conversational AI has become an essential part of our digital world, with OpenAI's GPT series gaining significant attention. Two of the most popular iterations of GPT series are ChatGPT and ChatGPT 4.
This article aims to explain the differences between ChatGPT and ChatGPT 4, focusing on their capabilities, limitations, and applications.
So, let's get started!
Overview of ChatGPT 3 and ChatGPT 4
ChatGPT, also known as GPT-3, is the third version of the Generative Pre-trained Transformer model, which made headlines for its impressive language generation capabilities.
With 175 billion parameters, it was a groundbreaking model in terms of size and performance. ChatGPT 4 represents the next leap in AI language models, building on the foundation laid by GPT-3.
With an even larger number of parameters and new architectural improvements, ChatGPT 4 boasts enhanced capabilities and a more human-like understanding of language.
So, now you have a rough idea about what both GPT 3 and GPT 4 are. Let's understand the difference between both of them.
The Difference Between ChatGPT and ChatGPT 4
There are a lot of differences between both ChatGPT 3 and ChatGPT 4. Even though you might get same results sometimes even with same prompts, but believe us they both are a lot different.
Well at least that's what OpenAi says.
But what makes GPT 4 better than ChatGPT 3 by OpenAi?
Inputs
One significant difference between ChatGPT-3 and GPT-4 is the range of inputs they can process. ChatGPT-3 is a language model that takes in only text inputs, whereas GPT-4 has expanded its capabilities to take images, in addition to text.
This expansion in input capabilities is a significant advancement for GPT-4. With the inclusion of visual inputs GPT-4 will be able to process images and can provide contextual answers.
Incorporating image inputs into GPT-4 could have similarly transformative effects. Image recognition and analysis has been a rapidly developing field, and by integrating this technology into GPT-4, it will be able to analyze and interpret images.
This could lead to the creation of more intelligent and advanced computer vision systems.
Enhanced Language Comprehension
While GPT-3 was already impressive in its language comprehension and generation, GPT-4 takes it a step further by better understanding context, nuances, and subtleties.
This improvement enables more accurate and coherent responses in a wider range of conversations, making it a more effective tool for communication.
Contextual Understanding
GPT-3 sometimes struggled with maintaining context in longer conversations, resulting in the loss of coherence and relevance in its responses. GPT-4 has improved contextual understanding, allowing it to maintain a more consistent and relevant conversation over extended interactions.
Ambiguity Resolution
GPT-4 can better resolve ambiguous queries by asking clarifying questions or providing responses that cover multiple interpretations. This enables more engaging and productive conversations, as the model can better adapt to the user's intended meaning.
Creativity and Problem Solving
GPT-4 brings notable improvements in creativity and problem-solving abilities compared to its predecessor. It can generate more diverse and innovative ideas, making it a valuable tool for brainstorming sessions and creative endeavors.
Enhanced Logical Reasoning
GPT-4 has a more robust logical reasoning capability, enabling it to tackle complex problems and draw more accurate conclusions. This improvement allows it to better assist users in tasks such as decision-making, research, and data analysis.
Well, this might come as a shock to some of you but GPT 4 cracked some high level exams too like SAT, GRE and more.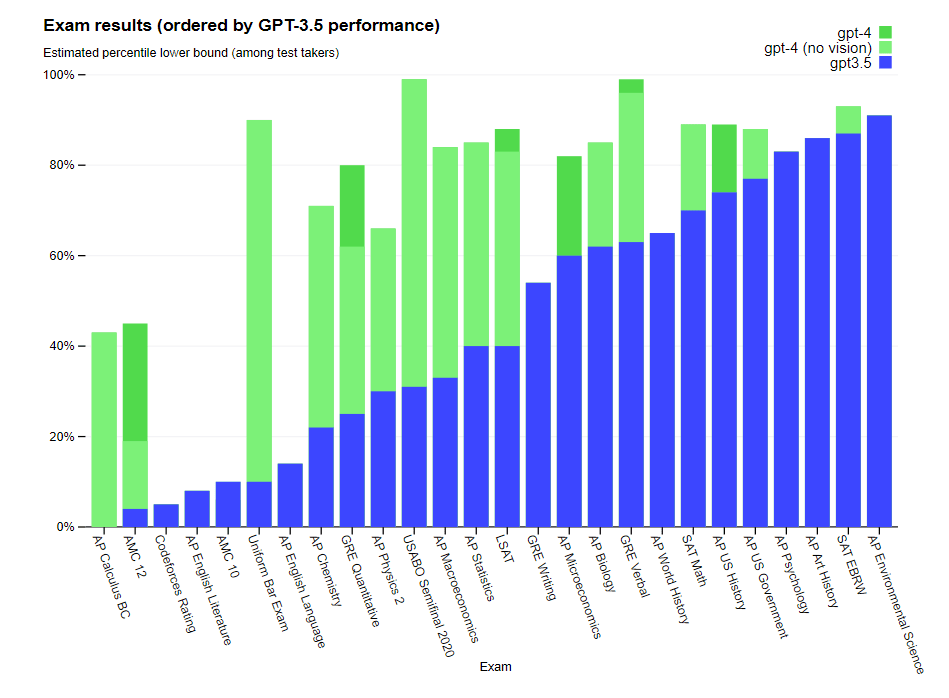 Analogical Thinking
Another significant improvement in GPT-4 is its ability to draw analogies and make connections between seemingly unrelated concepts.
This ability helps generate novel insights and ideas, making GPT-4 a powerful asset for creative fields like advertising, marketing, and product development.
Limitations of GPT-4
Despite its advancements, GPT-4 still has limitations. It can generate incorrect or nonsensical responses, and it may be sensitive to input phrasing. Additionally, it remains unable to access real-time or post-training data, meaning it cannot provide up-to-date information or learn from its mistakes during a conversation.
Ethical Considerations
As AI models become more powerful, ethical concerns grow alongside them.
While GPT-4 can be an invaluable tool, it can also be used maliciously, such as generating fake news or deepfake content.
OpenAI has implemented safety mitigations to reduce harmful and untruthful outputs, but continuous research and collaboration among stakeholders is necessary to ensure responsible use of this technology.
Here's a difference table to summarise all the important differences between GPT 3 and GPT 4 models.
Difference Table: GPT 3 vs GPT 4
| | ChatGPT | ChatGPT 4 |
| --- | --- | --- |
| Parameters | 175 billion | More than ChatGPT (exact number not disclosed) |
| Language Comprehension | Impressive, but less advanced than ChatGPT 4 | More advanced, better understanding of context, nuances and subtleties |
| Contextual Understanding | Struggles with longer conversations | Improved, better at maintaining relevance over extended interactions |
| Ambiguity Resolution | Less capable | Better, can ask clarifying questions and cover multiple interpretations |
| Creativity and Problem Solving | Capable, but less advanced | Improved, more diverse and innovative ideas |
| Logical Reasoning | Capable, but less advanced | More robust, better at complex problem-solving and drawing accurate conclusions |
| Analogical Thinking | Less advanced | Improved, better at drawing analogies and making connections |
| Limitations | Can generate incorrect or nonsensical responses, may be sensitive to input phrasing, cannot access real-time or post-training data | Similar limitations, but with some enhancements in accuracy and information processing |
| Ethics | Requires continuous research and collaboration to ensure responsible use | Similar ethical concerns, with OpenAI implementing safety mitigations |
Other Major Differences Between GPT 3 And GPT 4
| Feature | ChatGPT | GPT-4 |
| --- | --- | --- |
| Input Modalities | Text | Text, Audio, Image, Visual |
| Image Analysis | Not Available | Available |
| Language Understanding | Limited to a Few | Can Understand More Languages |
| Accuracy | Less Accurate | More Accurate |
| Token Capacity | 4,096 tokens, or roughly 8,000 words | 32,768 tokens, or over 64,000 words |
For more information check the ChatGPT 4 launch page: OpenAi Launches ChatGPT 4
Things ChatGPT 4 Can Do For You that ChatGPT 3 Can't
ChatGPT 4 is really a pretty awesome model that comes with advanced capabilities that its predecessor, GPT-3, lacked. Here are some things that ChatGPT 4 can do for you that ChatGPT 3 can't:
See and Understand Images: Unlike ChatGPT 3, ChatGPT 4 is "multimodal," which means that it can understand more than one modality of information. One of the most significant changes is that ChatGPT 4 can be given images, and it will process them to find relevant information.
Harder to Trick: Chatbots can easily be led astray with a little coaxing. However, with GPT-4, users will find it much harder to trick the system because it has been trained on lots of malicious prompts. GPT-4 is better than its predecessors on factuality, steerability, and refusing to go outside of guardrails.
Longer Memory: In conversation or generating text, GPT-4 can keep up to 50 pages in mind. It means that it will remember what you talked about 20 pages of chat back, or, in writing a story or essay, it may refer to events that occurred 35 pages ago.
More Multilingual: GPT-4 can answer thousands of multiple-choice questions with high accuracy across 26 languages, from Italian to Ukrainian to Korean. It's best at the Romance and Germanic languages but generalizes well to others.
Different Personalities: GPT-4 integrates steerability more natively than GPT-3.5, and users will be able to change the "classic ChatGPT personality with a fixed verbosity, tone, and style" to something more suited to their needs.
The End!
ChatGPT and ChatGPT-4 are both language models developed by OpenAI with impressive capabilities. While ChatGPT has a maximum parameter size of 1.5 billion, ChatGPT-4 is a much larger model with a maximum parameter size of 6 billion.
This difference in size allows ChatGPT-4 to perform more complex tasks and generate more sophisticated responses, making it a better choice for tasks that require a higher level of language understanding.
However, ChatGPT is still a powerful tool for many use cases and can provide excellent responses for a variety of applications.
Ultimately, the choice between ChatGPT and ChatGPT-4 will depend on the specific needs of the user and the level of complexity required for the task at hand.
Try out ChatGPT 4 by purchasing the ChatGPT Plus from OpenAi today!