ChatGPT is the fastest growing AI tool, or you can say AI chatbot right now.
Though ChatGPT 3.5 is free to use, not everyone loves the kind of responses it gives, and sometimes the 3.5 version hallucinates too.
But what if you could use ChatGPT Plus (GPT-4 version) for free?
Ahh, now you're excited. Okay, so in this post, we have shared some of the best ways to use ChatGPT Plus for free without paying a cent.
Without wasting any time, let's get started.
Notice
The information presented in this article is based solely on our independent analysis and research. We have not been sponsored or influenced by any companies mentioned to promote or rank their products. Any links included within this content are not affiliate links and are provided for reader convenience only.
5 Ways to Use ChatGPT Plus for Free
After trying a lot of AI Chatbots, we can say that there are a lot of chatbots being created right now. Like we found a lot of new and unheard ones while searching for GPT 4 free alternatives ourselves.
But we can say that the ways mentioned below are pretty awesome secret tricks to use ChatGPT 4 for free only if you're ready to accept that they come with certain limitations.
Most commonly, what we found is, that almost every free alternative to ChatGPT Plus comes with prompt limitations, which means you can only use prompt it only several times a day.
Okay, so here they are:
Hack #1. Use Bing AI
Bing AI Chat, popularly known as New Bing AI-powered Copilot, comes with inbuilt GPT-4, enabling the users to use ChatGPT's latest and paid version for free.
There's not a lot of difference between Bing Chat and ChatGPT 4 in any way, as Bing's GPT can do almost every task that ChatGPT can do but for free (obviously, because the new GPT 4 model powers Bing AI Chat).
However, it comes with limitations like your prompts character limit cannot exceed 4000 characters, which is not true with ChatGPT Plus as it comes with a 4,096 character limitation.
There are three styles of responses in the Bing AI Chat: Creative, Balanced, and Precise.
With Creative style, you can generate unique and imaginative responses through GPT-4. By choosing the Balanced style, you can generate informative and generic conversation; however, with the Precise style, you can generate straightforward and clear responses from GPT-4 for free.
The best part is, as the latest ChatGPT Plus model can listen and see with vision, Bing AI Chat comes with the same functionality that other free alternatives do not offer, making Bing AI a recommended chatbot if you don't want to spend $20 / month on ChatGPT Plus.
You can also watch this video by Kevin Stratvert to understand and learn more about Bing AI and its new functionalities if you want to make the most out of it for free.
Hack #2. Use Hugging Face Spaces
The second best option to use ChatGPT's GPT-4 for free is to search Hugging Face spaces.
Find any GPT-4 space on Hugging Face and start using ChatGPT-4 for free without spending a dime. For example, we searched for "ChatGPT 4 Hugging Face," from many spaces, we found Yuntian Deng's GPT4 space to be working fine.
While other Hugging Face spaces ask you for your OpenAI API key, you don't have to do all of that to use GPT-4 with Yuntian's model.
However, the bitter truth of life is, that everything free comes with its price, and using Yuntian's GPT4 space is excellent, but it might not always generate quick responses.
Sometimes, while trying to use other Hugging Face GPT4 spaces, we found that most display an error because of longer queue times (in simpler words, the space is too busy to use).
Note
It would be best to ignore some disclaimers when using the GPT4 on Hugging Face, as you must remember that your data, device technical specifications, and prompts or generated responses can be used for training purposes, and they will not be deleted.
Hack #3. Use Poe AI
Poe AI is another AI chatbot that lets you use a lot of AI chatbots and gives limited access to free users.
All you need is to create your free account by going to Poe.com, which will let you use a chatbot.
Coming back to using GPT-4, during our testing, we found that the limited access to using GPT-4 for free on Poe is limited to only 1 message per day, however, the best thing about Poe is you can use a lot of bots on the platform.
Poe provides an impressive lineup of advanced chatbots covering different capabilities, all accessible with no limits, for example, Google PaLm, Code Llama, and more.
Not only these, it also has some fun chatbots like 4K, using which you can generate 4K images, or One Piece Simulator, using which you can have a chatbot that generates responses like One Piece (a popular anime show) and more.
For example, in the above image, you can see we used a 4KPhoto bot to generate a picture of a Lion and believe us, the response was as fast as a Google search.
While you may have to wait your turn to chat with GPT-4, models like the original ChatGPT 3.5, Claude, and others are available 24/7.
In particular, check out Poe's Web-Search bot.
This AI chatbot lets you search the web on your behalf to provide informative, up-to-date responses. It's powered by GPT-3.5-Turbo; in the above example, you can see how it answers to the latest information, along with footnotes and citations.
Beyond Web-Search, Poe grants unlimited use of other impressive AI chatbots like the original ChatGPT, Claude models, and more.
Hack #4. Use Phind
Phind is not a very popular AI chatbot, but it is powered by OpenAI's GPT models, and it lets users use GPT-4 for free without even creating an account.
However, the only limitation it has is its response limits. You can only generate 10 responses daily using the GPT-4 model on Phind AI. But, the GPT-3.5 and Phind model have no limit of generations.
The UI of Phind is straightforward, which we liked. The other cool feature it comes with is its Pair Programmer feature, which is helpful for programmers.
Also, you can add more context to your prompts, which is super cool. We think that context makes responses much better, and that's something AI chatbots lack.
But Phind has an extra prompting box where you can specify and provide more context.
For example, let's say you want to write a resignation email. A normal prompt like "Write me a resignation email to xyz boss. My company is zyx and the reason for resignation is abc,"will not generate a great output as it lacks context, like the tone of writing, the structure, and how you want this to be addressed.
Using Phind, you can specify such contextual parameters and generate much better responses.
Here's an example of how we used Phind's GPT-4 model for free and generated a well-structured resignation email:
First, we gave it a prompt and context prompt, as shown in the image below.
Then, it not only gave us the resignation email by perfectly understanding the context and the emotions, but it also showed us some sources from which it referred to generate a perfect email.
The email is perfectly written in a neutral tone, and Phind also understood the "Whys" of writing this particular email.
The best part is that Phind cross-questioned to gain more details about the company and guidelines or protocols to write another email for us, and this all is for free, which is amazing.
Hack #5. Use Ora AI
Ora AI is a new platform making conversational AI like GPT-4 accessible to regular people for free.
While chatbots like Anthropic charge money to use GPT-4 through ChatGPT Plus, Ora AI lets anyone test out this advanced model at no cost.
You must create a free Ora account to chat with GPT-4 via Ora AI.
Go to the Ora AI website, enter your email, and choose a password to sign up. The registration process only takes a minute or two.
Once you've created your account, you can log into Ora AI and see a chat interface ready for conversing with GPT-4.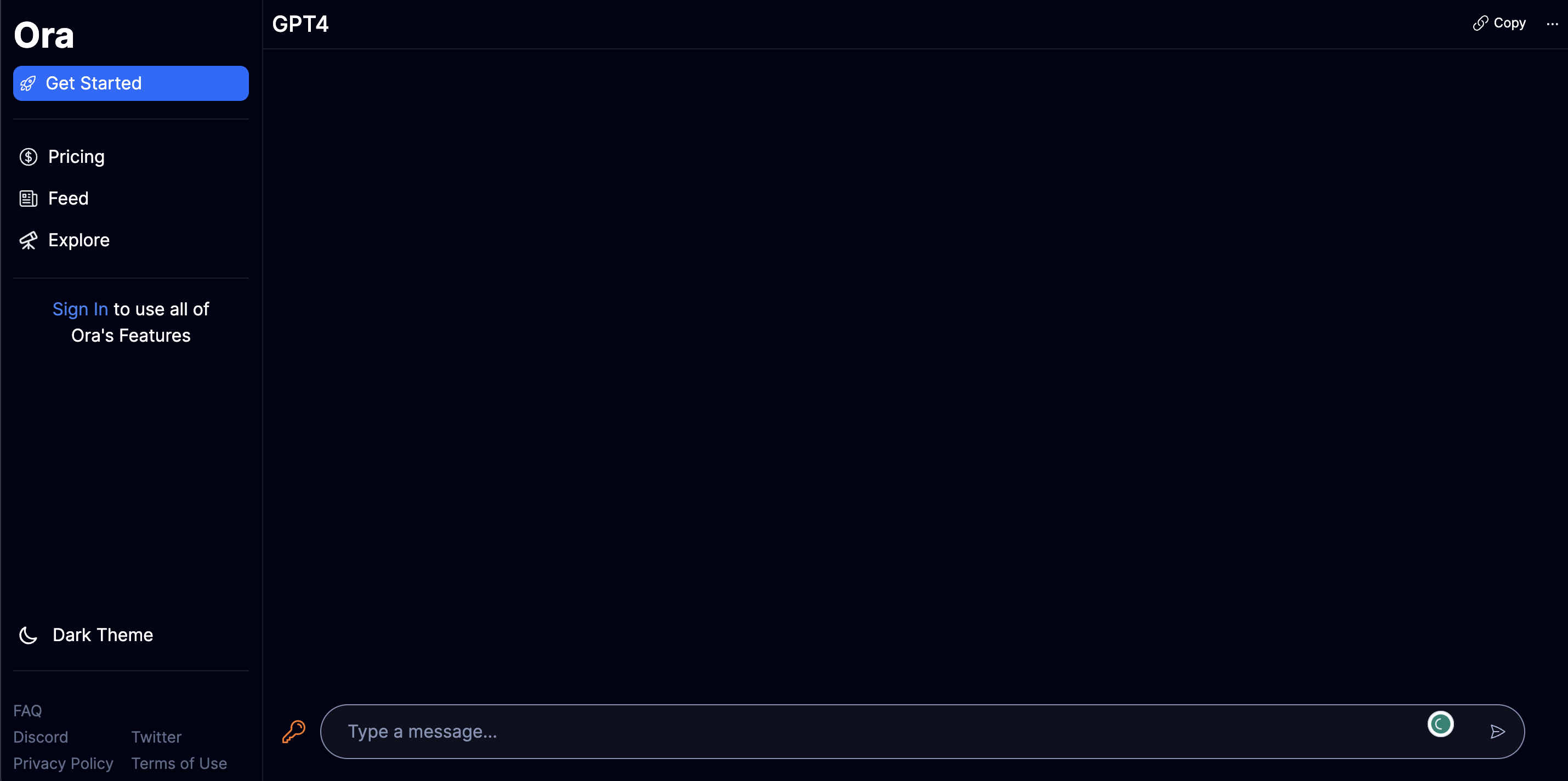 At the bottom is a text box where you can type in a prompt, question, or anything you want GPT-4 to respond to.
Hit enter, and Ora's AI assistant will instantly generate a response using the GPT-4 model.
If you want more unrestricted access to GPT-4, Ora AI offers paid subscription plans as an upgrade. But the free tier grants enough GPT-4 conversations and lets you use other trained chatbots like Poe AI.
You've Reached The End
And that's it. If you don't want to spend any money and just want to give GPT 4 a try because your crazy, techy, and obsessed friend has told you to, then you can use the above chatbots and explore the functionalities of GPT-4 for free.
If you're also looking for other AI tools, do not forget to check out our comprehensive and tried list of best AI tools.
Oh, did we mention that you can learn how to prompt using our "How to Write Better ChatGPT Prompts Guide" and copy our best prompts for ChatGPT from this post, "Best ChatGPT Prompts."
So, try the above ways, and do not forget to comment on your favorite secret trick of using ChatGPT 4 for free (why not share it with us, huh?).