NVIDIA announces partnerships with Indian conglomerates Reliance Industries and Tata Group to advance AI technologies in India.

The collaboration aims to build robust AI computing infrastructure using NVIDIA's cutting-edge technologies like the GH200 Grace Hopper Superchip and DGX Cloud.
September 9, 2023: In an exciting development, NVIDIA, the tech giant famous for its graphics and AI technologies, announced partnerships with two of India's biggest companies, Reliance Industries Limited and Tata Group. Jensen Huang, the CEO of NVIDIA, broke the news during a press conference in Bengaluru, India.
He detailed the company's ambitious plans to work closely with these Indian giants to bring AI technologies and skills to tackle some of the most pressing issues facing the world's second-most populous country.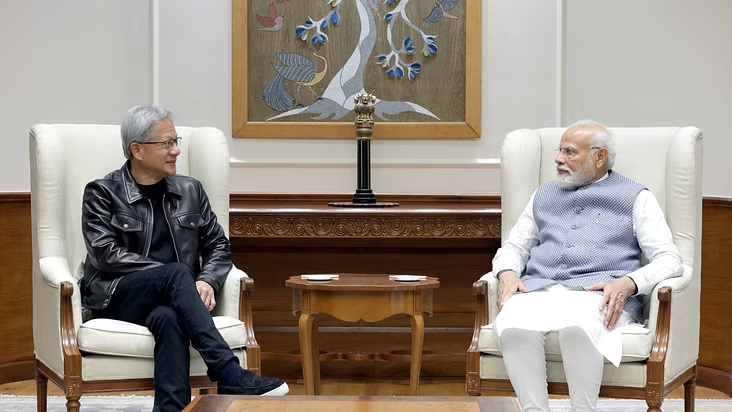 Huang spent a week in India, holding high-level meetings with various stakeholders, including Prime Minister Narendra Modi, top business leaders, leading AI researchers, and more than 4,000 NVIDIA employees based in the country. "I think this is going to be one of the largest AI markets in the world," said Huang, highlighting India's potential in the global AI landscape.
The trio of companies aim to create a robust AI computing infrastructure and platforms centered around NVIDIA's cutting-edge technologies.
These include the NVIDIA GH200 Grace Hopper Superchip, a game-changing computing architecture, and the NVIDIA DGX Cloud, a cloud-based AI supercomputing service. Huang emphasized that this will be a key asset for India, a country already rich in computer science expertise.
"You have the data, you have the talent. We are open for business and bring great expertise on building supercomputers," he said.
According to Huang, AI could be a new "natural resource" for India, which already excels in Information Technology. "IT is one of your natural resources. You produce it at an incredible scale. You're incredibly good at it. You export it all over the world," Huang told the Indian media.
The CEO declared this "India's moment" to become a global AI powerhouse.
The partnership could bring AI to India's diverse and vast population, spread across big cities and over 650,000 villages.
The technology could empower rural farmers with weather forecasts and market prices in their local languages, help provide large-scale medical diagnosis where doctors aren't readily available, and improve storm predictions to facilitate quicker evacuations.
Reliance Industries and Tata Group are slated to build and manage state-of-the-art AI supercomputing data centers.
These facilities will serve not just for their internal AI development but also as infrastructure-as-a-service for India's growing AI startup scene and research community.
Huang concluded by saying, "AI could be built in India, used in India, and exported from India," painting a promising picture of India's potential as a leader in AI technology.